Biography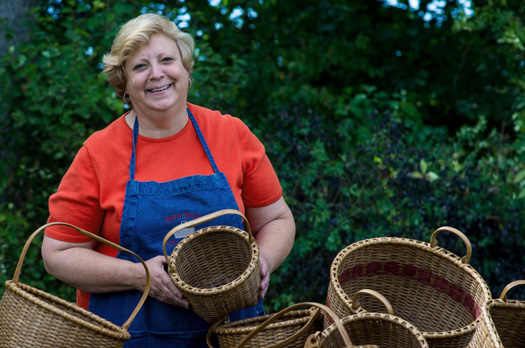 For as long as I can remember, I have loved art and used my hands to express myself. I studied art extensively in college and originally focused my attention on woodworking and weaving on a loom. When I discovered basketry more than 35 years ago, I found a passion that artistically combined my love of weaving and woodworking.
After college, I interned with Martha Wetherbee for five summers to learn to work with ash in the Shaker style. I also took classes with Alice Ogden and JoAnn Kelly Catsos, who, like Martha, are nationally known basket makers from New England. Their combined expertise and knowledge have helped me to develop my craft and hone my weaving skills.
Working over wooden molds, in the methods of the Shakers, my baskets are traditional in shape and materials. I weave both Shaker reproductions in ash and traditional, utilitarian baskets of reed. Native hardwoods such as ash and oak are used to make the rims and  handles, and all my baskets are lashed using ash. Each basket takes on its own character as it is woven in a quatrefoil, twill or fancy lace pattern to appeal to both eye and touch.
I am a juried member of the Bucks County Craftsmen's Guild and the PA Guild of Craftsmen. I am also a member of the Handweavers Guild of Bucks County.  I also served as president/vice-president of the Penn-Jersey Basket Weavers Guild for six years and have taught and lectured throughout PA, NJ and Virginia. My work can be seen at the Mennonite Heritage Center in Harleysville, PA and at various craft shows.